Stay up to date with all the action from the 2020/21 Nutri-Grain IronMan and IronWoman qualification event at Kingscliff from Saturday 28 to Sunday 29 November.  
Be sure to refresh your browser frequently to see most updated information.  
The 20/21 Nutri-Grain Series Qualifiers
Congratulations to the 16 successful entrants to the 20/21 Nutri-Grain Series!
For a wrap on today's racing click here.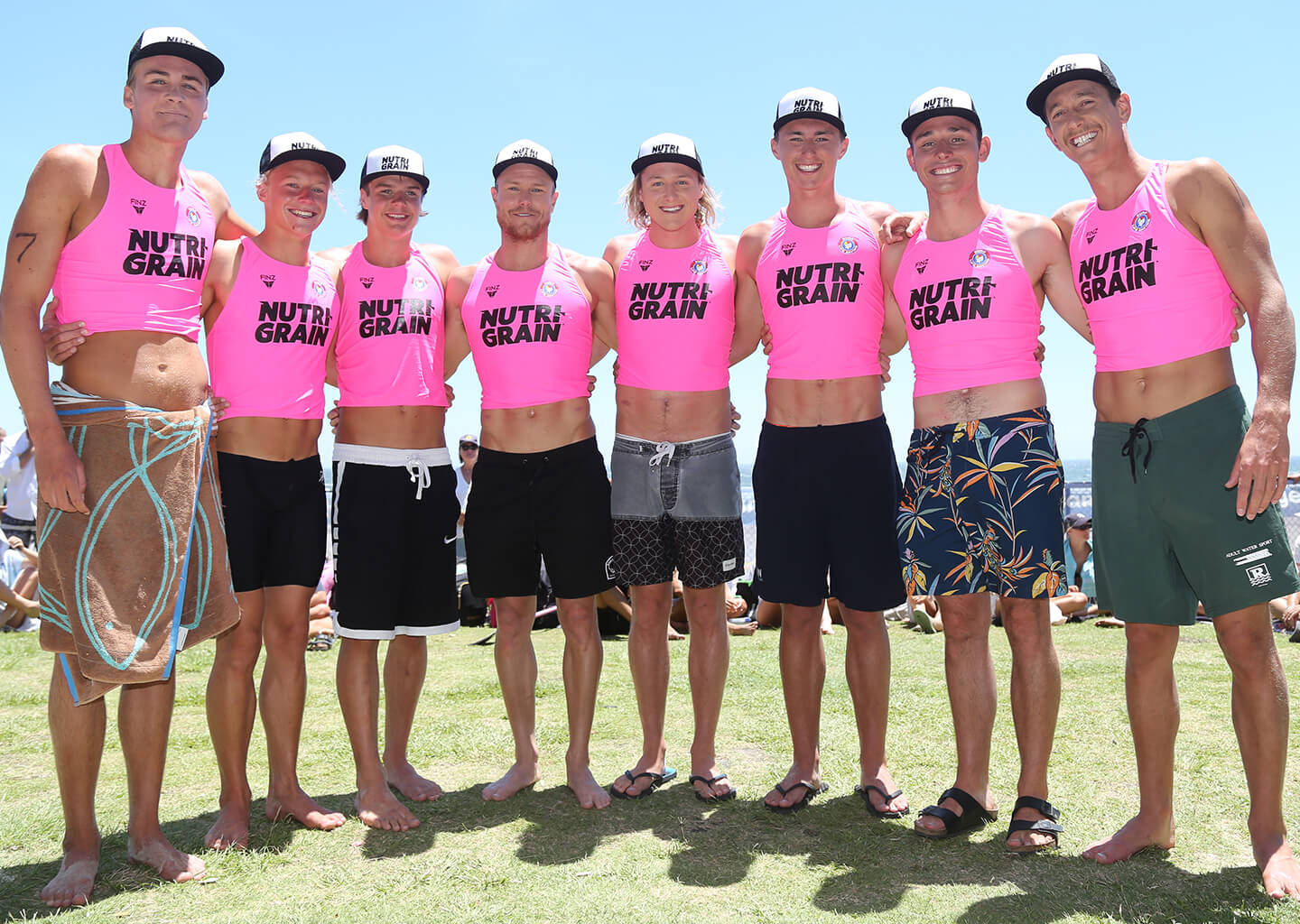 The male qualifiers are Alastair Day, Daniel Collins, Zach Morris, Cooper Williams, Ky Kinsela, Hayden White, Joe Collins, Finn Askew.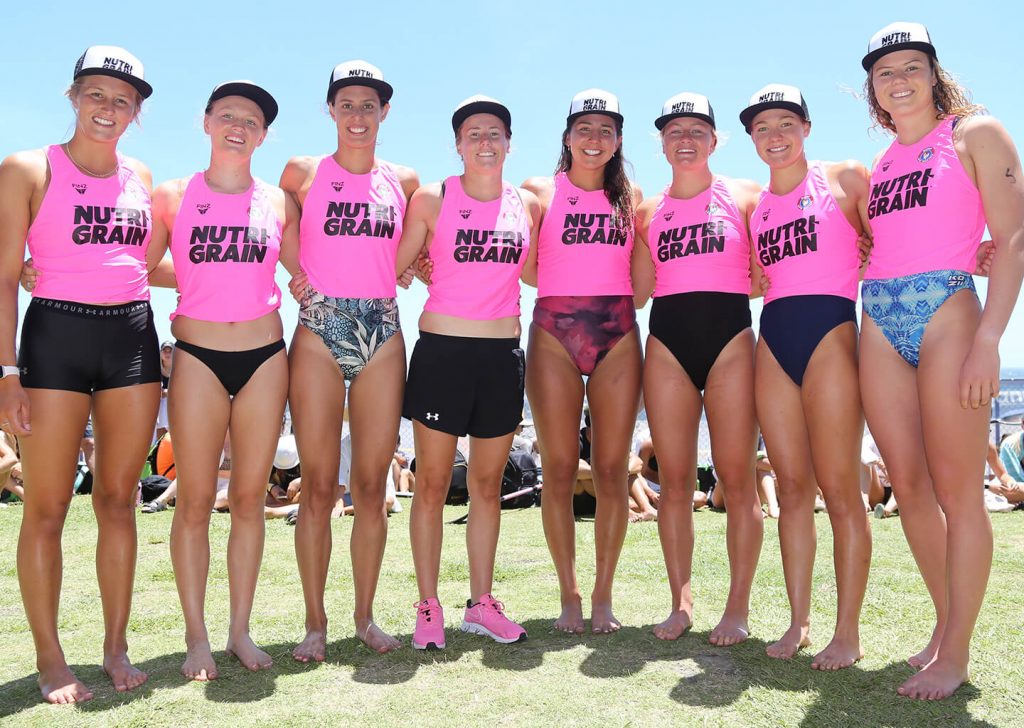 The female qualifiers are Naomi Scott, Tayla Halliday, Emily Doyle, Carla Papac, Hannah Sculley, Madison Spencer, Emma Woods, Olivia Corrin
Sunday 29  November – FINALS
11:00am – Women's Round 3
Olivia Corrin comfortably leads out through the swim with Tayla Halliday and Naomi Scott at the pointy end where they've been all day! The group extends their lead through the board leg with the top 3 staying in tact.
Tayla Halliday makes her move in the ski leg crossing the line 1st. Naomi Scott finishes 2nd, Olivia Corrin 3rd, Madison Spencer 4th Carla Papac 5th, Emily Doyle 6th. 
Scott, Doyle and Halliday look to have secured their place in the series with consistent results in all three races. Will be a tight finish for remainder of the spots! 
10:30am – Men's Round 3
Leading into the crucial M-Shape Round 3 we have a solid top 4 with Ali Day, Dan Collins, Zach Morris holding down the podium and Cooper Williams in a solid fourth.
Ky Kinsela once again proves he's one of the best surf swimmers in the nation easily leading the M-shape swim leg with Dan Collins, Ali Day & Zach Morris in pursuit.
Kinsela extends his lead throughout the board leg with Ali, Dan Collins continuing their form. Cooper Williams & Zach Morris following comfortably. Finn Askew has put himself in a position to qualify and will likely come down to the last ski leg! 
Ky Kinsela takes out the M-Shape by 30 seconds over Ali Day, Dan Collins 3rd, Zach Morris 4th, Cooper Williams 5th, Hayden White 6th, Joe Collins 7th & Finn Askew 9th will be on the cusp! Full results to come for the men!
10:05am – Women's Round 2
Ski leg led the whole way by Carla Papac with Hannah Sculley,  Naomi Scott, Tayla Halliday, Tiarnee Massie, Emma Woods Em Doyle & Tiarnee Massie in tow. Same crew coming through after the swim with Tayla Halliday leading into the swim.
Carla Papac crosses the line first followed by Em Doyle 2nd, Naomi Scott 3rd, Tayla Halliday 4th, Tiarnee Massie 5th making amends for round 1. Em Doyle, Naomi Scott and Tayla Halliday with back to back top 5 finishes putting themselves in primary position to qualify through to the Series.
9:50am – Men's Round 2
Plenty of work for the IRB's with course resets aplenty due to conditions. Ali Day in a class of his ow again leading the boys around after the first ski leg. Hayden White on his heels in cruise control followed by Cooper Williams and Zach Morris again showing he's well deserving of a potential series berth.
Ali leads out of the swim chased by noted swimmers Dan Collins, Ky Kinsela and Zach Morris. Cooper Williams and Wes Gould well in the mix heading into the final board leg. Hayden White holds onto 8th after the swim.
Ali makes it 2 from 2 in a canter. Followed in by 2nd Dan Collins, 3rd Zach Morris, 4th Ky Kinsela, 5th Cooper Williams, 6th Wes Gould, 7th Isaac Smith.
9:25am – Women's Round 1
Board Leg spread the women out quickly with Naomi Scott & Em Doyle creating an early led which they maintained through the ski. Emma Woods and Electra Outram in third and fourth through the Ski. After coming off the board last Tiarnee Massie pulled into 16th after the ski. Top two of Naomi Scott & Em Doyle comfortable all the way. Chase pack finished 3rd Emma Woods, 4th Hannah Sculley, 5th Tayla Halliday, 6th Olivia Corrin, 7th Electra Outram with number 1 seed from yesterday Tiarnee Massie finding herself 18th.
9:10am – Men's Round 1
Tight racing all the way with 14 coming off the board first leg together with Isak Costello and Zach Morris leading round the first transition into the ski. Plenty of runs to chase on the way back in on the ski with Ali Day and Hayden White showing everyone how it's done. Top four of Ali Day, Zach Morris, Hayden White and Dan Collins into the swim.
No surprises Round 1 with Ali cruising away from the chase pack. Dan Collins 2nd, Zach Morris 3rd, Hayden White 4th, Cooper Williams 5th, Isaac Smith 6th leading the rest through.
8:55am – Pre-Race Update
Plenty of storylines around for finals day at the Nutri-Grain Trial with wind and chop at Kingscliff sure to test out the top 20 males and females from yesterday's racing! In the men's, the vets looked solid and did what they had to yesterday – the likes of Ali Day, Daniel Collins and Hayden White will look to cruise into another year of Iron Series racing.
Young guns Zach Morris & Joe Collins were standouts yesterday and will be looking to secure their first series berth and will be pushed all the way by the likes of Cooper Williams, Corey Fletcher and Nath Gray who will certainly be around the coveted top 8 at the end of racing today.
For the women expect the Sunshine Coast to again produce a number of qualifiers with Tiarnee Massie, Tayla Halliday and Emma Woods all looking promising to qualify after their strong results yesterday. Emily Doyle,  Naomi Scott and Hannah Sculley were at the top of the qualifiers from yesterday as expected and will again look to feature in testing conditions today!
Anything can happen with only 8 spots up for grab so make sure to stay tuned over the next couple of hours!
Saturday 28 November – Heats
Check out the results from Saturday's racing here.
2:30PM – Women's Round 3
Round three for the women was kicked off by Wanda's Carla Papac smashing the first heat of the M Shape course ahead of Jayde Hardstaff and Lily O'Sullivan. Tiarnee Massie put another win on the board, followed by Newport's Emily Doyle and Burleigh Heads' Ela Heiniger. Noosa Heads' Electra Outram took out first in the final heat of the M Shape, with Newport's Maddison Spencer in second and Wanda's Taylar Puskaric in third.
1:30PM – Men's Round 3
Wanda's Nathan Jay took out the first race of the M  Shaped course with Kye Taylor in second and Corey Fletcher finishing in third. Ali Day held a strong lead in his final race of the day, making it three from three in race two. Ky Kinsela finished up second followed by Jarryd McDonnell. Third race of the final M Shape course was taken out by Mermaid Beach's Simon Murfet, followed by Zak Van Dartel and Luke Chapman. Newport young gun  took out the fourth and final heat followed by Dan Collins and Isaac Smith.

11:30AM – Women's Round 2
Maroochydore's Tiarnee Massie smashed her second race of the day, with a convincing win ahead of Newport's Emily Doyle and Lily Finati. Emma Woods lead through the entire second race with Jayde Hardstaff following in second and Naomi Scott making up massive ground in the final swim leg to take third. Madison Spencer lead through most of the third race, with Hannah Sculley in second but it was Taylah Halliday who dominated in the swim to take first, followed by Sculley and Lilly O'Sullivan in third.
10:40AM – Men's Round 2
The longer form races challenged the male with leads changing throughout the different legs. Redhead's Dan Collins took out the first race with a great final swim leg and a comfortable win ahead of Zach Morris and Texas Dixon. Cooper Williams had a cracking start to race two leading from the board into the ski, with Ali Day making up a lot of ground in the ski to hold the lead into the swim. Day finished in first followed by Williams and Finn Askew in third. Kiwi Joe Collins won his second race of the day, ahead of Mitch Stit and Wes Gould. The final race of heat two saw a change in lead a few times, with Corey Fletcher and Adam Palmer sitting in front for much of the race but it was Hayden White, Ky Kinsela and Jo McMenamin who took out the top three spots.

9:30 AM – Women's Round 1
Returning from  a bout of Glandular Fever in 2019, Naomi Scott was in great from and took out the first race for the women followed by Tiarnee Massie, Jade Slee and Kiwi Olivia Corrin. It was a sprint finish for race two, with just inches between Emily Doyle and Emma Wood . Race three was taken out by Alexandra Headlands' Tayla Halliday, followed closely by Jayde Hardstaff, Hannah Sculley and Maddison Spencer. 
9:00 AM – Men's Round 1
It was short and sharp racing for the males in the first round of races this morning. Champion Ironman  Ali Day looked strong in his return to racing cruising through the first race ahead of Cooper Williams and Hayden Cotter. Race two was taken out by Corey Fletcher with a great final wave in the ski leg that he rode all the way to shore. Newport's Zach and Mitch Morris both secured second in race 2 and race 3.  Race three was taken out by Northcliffe's Joe Collins with Adam Palmer in third.  It was tight finish for the final men's race in heat one, with Isaac Smith coming across the line first followed by another six competitors in tow.